"Ellen Allard is an amazing person who has much to offer to Early Childhood educators through her infectious energy. She was able to keep the audiencer's attention and taught through her presentation. ~Amy Newman, Detroit, MI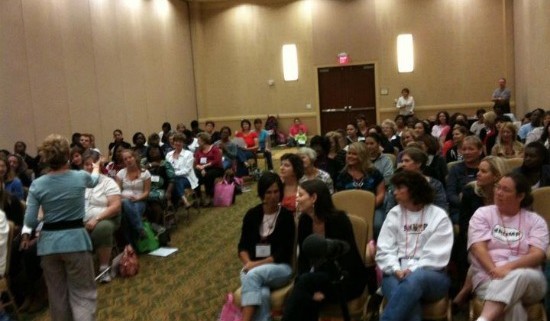 Secular Teacher Keynotes & Workshops
Ellen Allard has been presenting teacher workshops and keynotes for almost 30 years, in settings that range from small intimate teacher training sessions to conferences with several thousand teachers in attendance. Her primary goal is to motivate teachers to return to their programs committed to making music a regular part of the classroom experience. She teaches them easy-to-sing and easy-to-teach songs that children love and ask for again and again. She teaches them the underlying reasons why music is such an integral part of a young child's life. Teachers return to their classrooms empowered to create singing classrooms and equipped to influence their colleagues to do the same.
Ellen also offers a program for teachers and/or parents of infants and toddlers called "This Little Piggy Went To Market: Tips on Using Songs, Fingerplays, & Knee Bounces To Delight Your Babies & Toddlers".
In addition to doing in person appearances, Ellen is now booking video conferencing options for teacher workshops.