[av_textblock size=" font_color=" color="]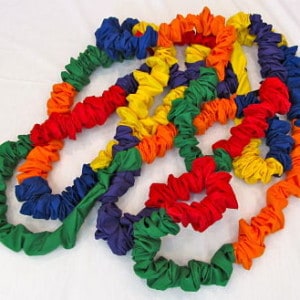 Every once in awhile, I find a prop that makes my music teaching heart soar. The stretchy band made by Bear Paw Creek is just the ticket.
In fact, I like it so much that I'm holding a contest with Janet Stephens, the owner of Bear Paw Creek. One lucky winner will receive a Bear Paw Creek stretchy band AND one physical or digital download of my Sing it! Say it! Stamp it! Sway it! Volume 1 CD. You are invited to choose the format of your choice – physical or digital. More about this in a minute.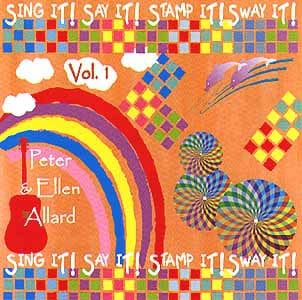 I first learned about the stretchy band from my good friend and colleague Miss Carole of Macaroni Soup. Carole is a masterful Early Childhood music teacher. If she says something works, I take her word for it.
I've used the stretchy band with GREAT success in my music classroom teaching and in the workshops I conduct with music and classroom teachers on using music for Early Childhood skill development.
What is the stretchy band? According to the Bear Paw Creek website, it is a creative movement prop for music and movement, community building, body and spacial awareness, teaching rhythm, music, and FUN!
I most recently shared the band at Hava Nashira 2017, one of the Osrui retreat offerings, while I was teaching an Orff workshop. After Hava Nashira was over, I posted the videos to Youtube – here and here. The first song is a Hebrew song called Bim Bom. The second song is the well-known Wheels on the Bus, taught to us during my workshop by Lisa Baydush – Lisa learned it from Miss Carole!
Why do I LOVE the Bear Paw Creek's stretchy band for teaching music? Here are just a few of my reasons.
Kids LOVE hands on activities. It keeps them focused. It gives them something to do that is movement-based.
The movement of the band, generated by the movement and direction of the kids' hands, helps to reinforce the beat. Internalizing and being able to keep the beat is an important musical skill. As well, there is rhythm and beat in EVERYTHING from reading to math to walking. When you give kids an opportunity to experience the beat, it will definitely support rhythm in everything else they encounter.
Using the stretchy band in a group builds a sense of community and camaraderie. It helps children feel connected to others in the group.
Using the stretchy band in a group encourages cooperation. If one child doesn't follow the directions being given for using the band, it will make it difficult if not impossible for the rest of the group to use the band accordingly. Conversely, it helps children feel connected when they cooperate with everyone in the group.
Are you ready to enter the contest to win a Bear Paw Creek stretchy band and Ellen Allard's Sing it! Say it! Stamp it! Sway it Volume 1 CD (you can choose physical or digital download)? The winner will be chosen on Oct. 31, 2017 and announced on Nov. 1, 2017. Here are the contest rules:
TO ENTER
Leave one comment on this blog post saying that you'd like to win a stretchy band. You can be the winner even if you already own one!
Double entry contest points if you leave a second comment on this blog post in which you share a specific song or activity to use with the stretchy band. But don't let that stop you. If you can't think of a song or activity to do with the stretchy band, skip this step.
If you're not already a member, join my Facebook group – Ellen's Music Teachers Rock – by clicking here. Even if you're a classroom teacher, you're invited into the group. Much to learn from each other!
Double entry contest points if you like my Facebook page here.
Share this blog post on Facebook or Instagram, using the text "Want to win a Bear Paw Creek stretchy band and one of Ellen Allard's award-winning children's CDs to use in your classroom?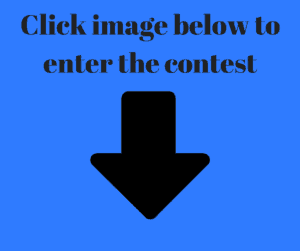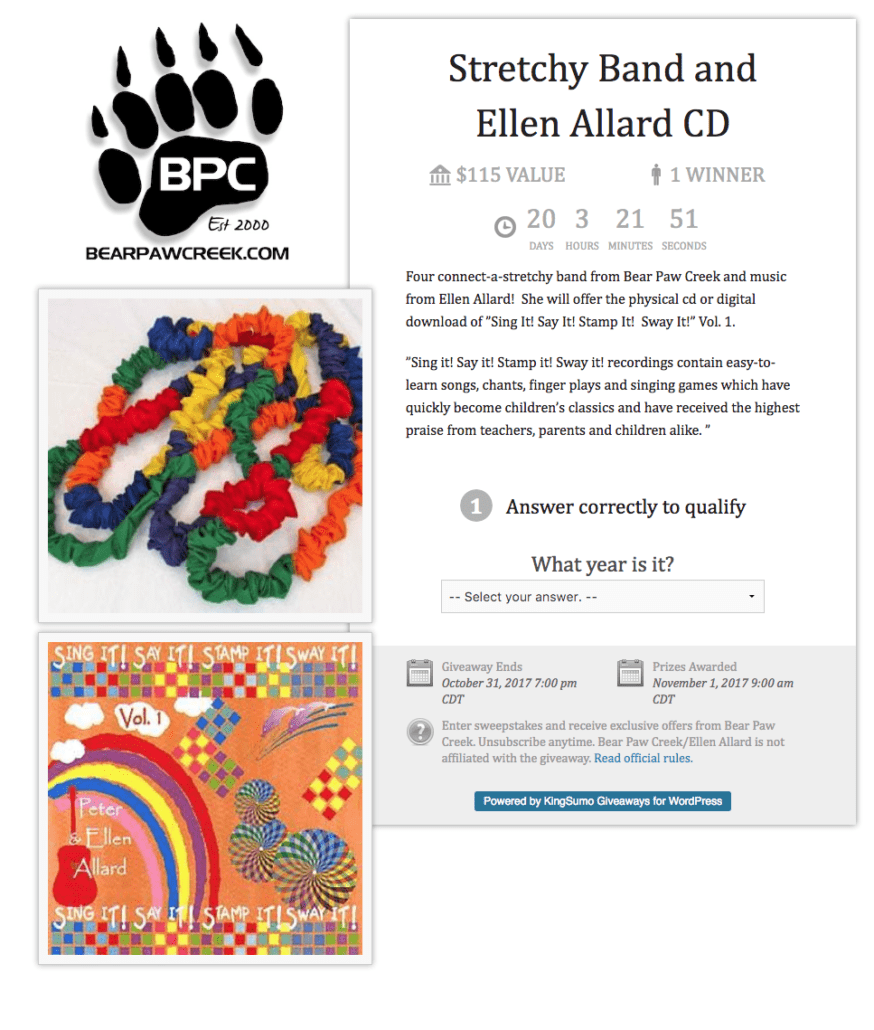 Good luck!!! I'm excited!!! I love contests!!!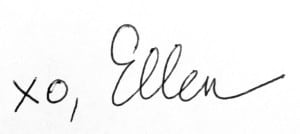 [/av_textblock]