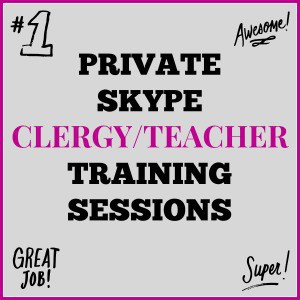 PRIVATE SKYPE CLERGY/TEACHER TRAINING SESSION
"In a few sessions with Ellen, my ability to create a meaningful music class for our youngest students, ages 2 through 4, has soared. I discovered with Ellen's help, skills I did not know I had, a comfort working with these children that increases each week, and with the joy of incorporating her material into the program, the children look forward all week to our class together. Ellen is truly a gift to our community and to these young children!" ~Cantor Mark Britowich, Temple Judea, Tarzana CA
Ellen offers private skype training for teachers and clergy who are ready to take their Early Childhood music skills to the next level. These can be scheduled as either single or multiple sessions. After filling out an intake form to determine skill level and desired goals, Ellen will schedule an initial complimentary session to further clarify how the training will proceed, after which customized training sessions based on particular needs can then be scheduled. Multiple training sessions are scheduled twice a month, in order for participants to have an opportunity to put into practice the theory, techniques and songs that are taught in each session.
Whether you're a seasoned musician, a music teacher who has been teaching for a few years, a camp songleader, an Early Childhood classroom teacher or an ordained rabbi or cantor, if you have the desire to hone your Early Childhood music teaching skills, Ellen will help you make a magnum leap in your ability to share and teach music to children, whether in an Early Childhood setting, Religious School classroom or leading worship for children.
Capitalizing on 38 years of teaching and performing music with kids, Ellen will teach you how to make music a magical experience for all involved. Benefiting from Ellen's time-tested skills, tips and techniques, you will:
exponentially expand your repertoire
learn how to run a fun yet meaningful worship experience for kids
learn how to structure and teach a classroom music session
become comfortable teaching and sharing music without an instrument
receive songsheet pdfs of all the music taught in your sessions
receive video tutorials to illuminate what you learn in your sessions
have access to Ellen via text or email inbetween your sessions
Email Ellen's Office Manager to schedule your initial complimentary session at support@ellenallard.com.